WHAT IS SHOULDER PADS?
A shoulder pad is a type of detail that is added to the shoulder portion of the garment. It helps to shape the shoulder position in accordance with the design and also ensures that the product will maintain its shoulder shape while in use. You may see shoulder pads manufactured in our factory.
STRUCTURE OF SHOULDER PADS?
Shoulder cushions can be as simple as a layer of muss, cotton (sponge, light) molded to shape the shoulder or as complex as many layers of materials machined together: muss, cotton, lining fabric... The number of layers of materials involved in this case depends on the shoulder height requirements during costume use.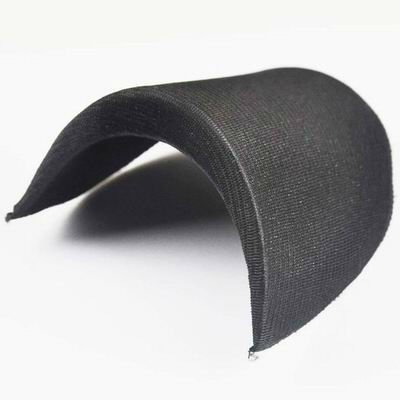 Shoulder pad types
1. Common Shoulder pads are used at the shoulders of jackets such as jackets, jackets, vests, etc.
2. Thin shoulder pads
Thin shoulder pads are commonly used for commonly worn clothing such as dresses, shirts, stylized products based on fashion trends, and so on.
Thin shoulder pads sewn into the garment will improve the overall shape of the outfit, assisting the wearer in addressing the body's weaknesses in the chest, neck, and back areas.
3. Closed shoulder pad
A closed shoulder pad is one that has all layers of cushioning material covered by an outer layer of fabric to form a unified mass, or it can be one that is molded into a shape from one material.
Closed shoulder pads have the advantage of not requiring lining when worn with unlined clothing.
Types of closed shoulder pads:
Shoulder pads for everyday use: Shoulder pads can be made of muss or cotton. The outside is lined with fabric and sewn shut with an overlock stitch. This type of shoulder pad is thin, soft, and usually flat, giving the shoulder a soft shape. Use on stylish women's shirts and dresses.
Shoulder pad for raglan sleeves:  shoulder cushion with round, soft shoulder shape. This shoulder pad is designed specifically for women's use.
4. Bare shoulder pads
Bare shoulder pads are shoulder pads with layers of materials in the structure that are temporarily connected by seams. From the outside, we can still see all of the layers that make up the shoulder pad.
For two-layer clothing, bare shoulder pads are used. Shoulder pads located between the main layer and the lining shape the shoulder but do not show on the product's outer surface. As a result, this type of shoulder pad does not have to be overly finished. This will result in increased economic efficiency in industrial garment production. Before hand fitting, the bare shoulder pads are machined to bond to the bodice at the shoulder position.
When displaying clothes, the use of shoulder pads for costumes is critical. The shoulder pad will help the costume blend in between display and when worn on the body, attracting customers' attention and helping to sell products more effectively.
NEW SKY GARMENT ACCESSORIES MANUFACTURING CO., LTD specializes in manufacturing and supplying shoulder pads of all types, with a wide range of models, high quality, and reasonable prices, making it the best place for customers to shop. https://newskypads.com/san-pham